Bruce Guckert
and

Caliper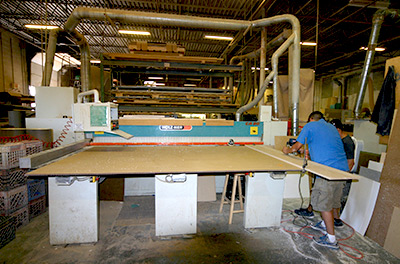 Caliper Woodworking Corp. was organized in the Spring, 1995. Using nearly 20 years of previous experience and talent, its principal officer, Bruce Guckert, created Caliper in order to build custom, high-end, commercial millwork and cabinetry.
Caliper offers its clients complete architectural millwork products. Its staff can build and construct from any drawings and specifications offered by the builder, architect and/or general contractor. However, if illustrations are unavailable, Caliper's staff can draft and engineer to the Client's requirements from the onset to the finished product. Caliper is open to all jobs offered, from a small tenant fit-out to a large ground-up installation. No project is either too small or too big.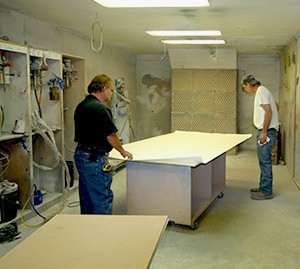 Caliper's millwork uses computerized technology, and is a full-service mill, with historical reproduction capabilities. It is housed in a 25,000 sq. ft. facility located in Malden, MA. All work is performed in this facility.
Noteworthy: Caliper is an FSC certificate holder, and is also experienced in LEED projects. Caliper uses only the highest quality raw materials to manufacture its products, and this is reflective whether making a cabinet out of solid wood; a laminated exterior; or a solid surface.
Caliper welcomes anyone wanting to learn more about its facility to contact us. If you wish visit Caliper, let us know so that we can arrange a tour. Customer service and satisfaction prevail as Caliper's primary concern; and Caliper does not consider any project completed until the Client is totally satisfied.
Bruce Guckert
Upon graduating from Northeast Metropolitan Technical High School in Wakefield, MA, Bruce Guckert earned a scholarship to Wentworth Institute in Boston, where his areas of study and education lead him to develop his skills in the art of woodworking and fine cabinetry making.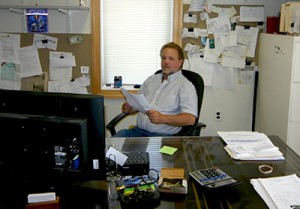 In 1978 Bruce formed his own company, B&G Custom Woodworking, and he worked as an individual craftsman in the field of building custom cabinetry. B&G developed over a period of several years, with Bruce employing several full-time workers. As his reputation and workmanship grew, as well as the demand for his work, he partnered with a colleague with similar skills. In 1988 Bruce and his partner built a company which was situated in South Boston.
However, the principals of that company, each possessing different corporate ideas, divided their interests into separate organizations, and in 1995 Bruce created Caliper Woodworking Corp. and remained in South Boston. As Caliper grew, Bruce moved the facility to Malden, MA. Today, Bruce continues to offer his personal talents and completely oversees every production piece designed, built and/or created at Caliper.